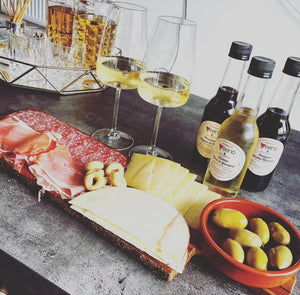 WINE TASTING EXPERIENCE - FOR TWO
£4500

£45.00
Tax included.
---
---
The ultimate 
wine tasting experience
 box for you and for any food and wine lover. 
As well as tasting our wonderful wines, you'll have some incredible Italian foods perfectly paired with each wine.
***

Vegetarian

option is available upon request (meat to be replaced by cheese, please add the request in the notes section at checkout).
This box contains:
Family wines 
(250ml each)
Zibibbo
: Smooth to the palate, this wine offers a wide shade of perfumes that range from spices to floral and fruits.
Read more


Sipping this wine will feel like a caress to all your senses.
Bio Grillo
: Grillo vines are the flagship of our varieties. For this wine, we have chosen the highest hill in order to exalt its freshness and flavour.
Read more


We put it into tonneaux to trap its body giving it a delicate note of oak and acacia. Such good care for a wine symbol of western Sicily. Intensity and elegance are the perfect mixes of this wine. Wide bouquet with a natural delicacy.
Frappato
: This blend reaches perfect equilibrium between the notable tannins of the Nerello Mascalese and the low tannins content of Frappato.
Read more


Light refreshing wine with a full bouquet. Notes of spices and wildberries. Notable acidity.
Perricone
: For decades the Perricone, or the so-called pignatello, had been the undisputed leader of the red grapes in western Sicily.
Read more


A careful vinification has transformed the prickly character into a incomparable personality: a one of a kind wine. Rich with red fruits, mixed with notes of liquorice, a typical expression of the relationship between the variety and its land. Wine of great power and harmony while expressing, at the same time, a fresh and lively character.
Meats 
Salame Milano
– A favourite in every Italian kitchen. It is fine-grained, tender and full of flavour.
Read more


Only the best quality pork and aromatic herbs are used. Salame Milano is prepared following the traditional recipe handed down over generations. 80g
Speck
– Is a cured, lightly smoked ham.It's well-marbled with a highly elastic texture and deep flavour.
Read more


It's typically made in South Tyrol, a province in northeast of Italy known for its snow-capped Dolomite mountains. 80g
Cheeses
Provolone Piccante
– The flavour of the cheese is very tasty and has a delicate and slightly spicy aroma. 80g (tangy)
Asiago
– Is a creamy unpasteurised cow's milk cheese, originating from Vicenza and Trento.
Read more


It was originally a monastery cheese, but today is produced only in this specific region of Italy, following age-old traditional methods. It is aged about 4-6 months and it has an inedible rind. 80g
Accompaniment
Taralli
– Tarallini are a classic snack from Puglia.
Read more


Made with local extra virgin olive oil and local white wine, the rings of dough are first boiled and then baked till crisp. 100g
Olive
– Sicilian olives, best in the world!!
Read more


100g (it contain stones)
Wine tasting guide
We've put together a simple guide to wine tasting to help you make sense of the amazing aromas and tastes you'll come across when drinking our family wines and some great rules to pair perfectly our wines with some delicious Italian food.  
Additional information
- Delivery is usually next day when order is placed Monday to Thursday by 12 pm. Orders placed after cut off (12 noon) on Thursdays will not be processed until the following Monday
- Fresh products can be consumed up to four days after delivery
- All deliveries are packaged in a special chilled box 
- Products may change due to availability
---