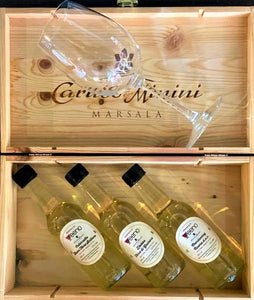 Family White Wines Flights
£2095

£20.95
Tax included.
---
---
A trio of our delicious family white wines flights. Discover your favourite Sicilian red wine and learn to distinguish the differences. 
This box contains: 
Zibibbo
(250 ml): Smooth to the palate, this wine offers a wide shade of perfumes that range from spices to floral and fruits.
Read more

Sipping this wine will feel like a caress to all your senses.
Tasari Catarratto
(250 ml): In our house, simplicity and kindness are the fundamental values by which one gathers around a table for any occasion and only a distracted observer can confuse this simplicity with mediocrity.
Read more

Straw yellow color with green reflections. Notes of apricots and honey. On the palate, exotic fruit flavour, taste and softness unite. Serve fresh at a temperature of 12°C.
Cusora Chardonnay
(250 ml): This wine is fresh and tasty with a complexity that confirms the wonderful balance reached between the grape and its vineyard.
Read more

Great bouquet with intense fragrances featuring vanilla and tropical scents. Aromatic and vegetable notes exalts its complexity. In one's mouth it surprises with rich flavours and balance.
Additional information
_We've put together a simple guide to help you make sense of the amazing aromas and tastes you'll come across when drinking our family wines.
_Wooden box and glass are NOT included
---